Entering the world of raves is a wild ride because there are many parties, events, and festivals to get familiar with. And, if you can, you should experience as many of them at least once. One of those events is the Electric Daisy Carnival, commonly known as EDC, and today we'll tell you all about it!
What Is EDC Las Vegas?
The Electric Daisy Carnival has been around since 1991 and it's one of the biggest electronic dance music festivals on earth. It's known for its colorful light shows, amazing lineups of electronic music performers, and carnival rides. Millions of people from all over the world travel to Las Vegas to have this unique experience and the festival has a very passionate community.
One of the things that sets EDC apart from other festivals is the multisensory atmosphere. EDC offers a lot of variety, not only because the lineups feature many great performances, but also because there are many other activities. Such as carnival rides, fireworks shows, art installations, merch booths, and so much more. It offers 3 days of exciting rave adventures, so it's worth every penny.
Where Does EDC Take Place?
As mentioned above, the flagship EDC event takes place in Las Vegas, Nevada. More specifically, the Las Vegas Motor Speedway. However, the event also has a presence in Orlando, Florida, and other countries, including South Korea, Mexico, Japan, and China. In the past, EDC has even been hosted in Brazil, London, New York, Shanghai, Puerto Rico, and many other locations.
Discover the hottest EDC Orlando outfits trends for this year on our 'EDC Orlando Outfits', and get ready to shine at the festival!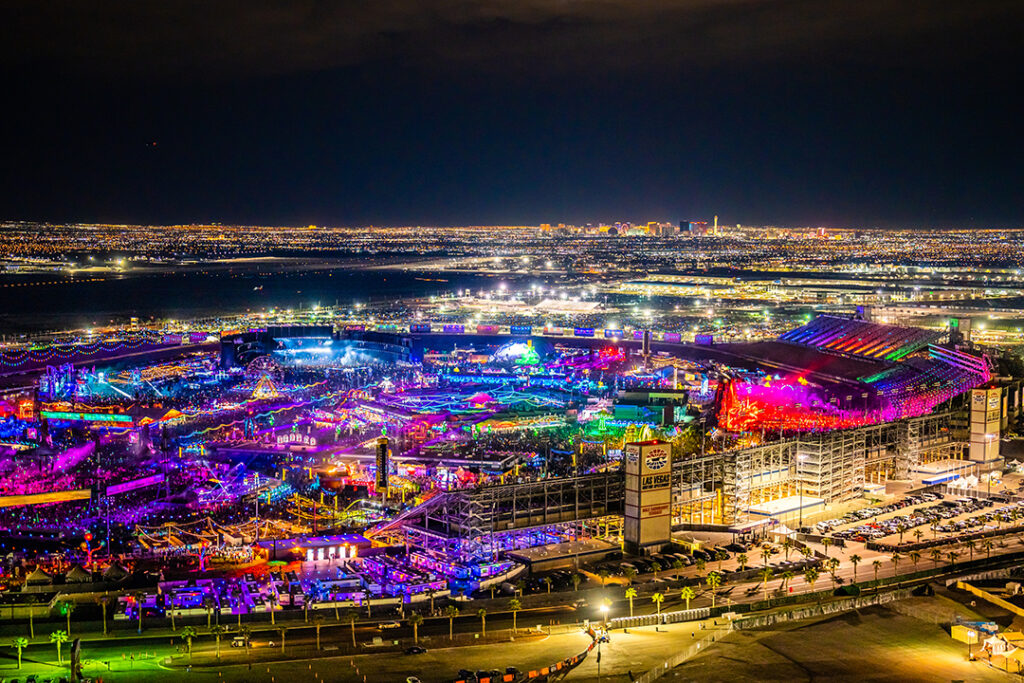 When Does EDC Take Place?
When EDC takes place will depend on the location you're interested in. For example, EDC Las Vegas takes place every year from May 17 to May 19. On the other hand, EDC Orlando takes place from November 10 to November 12. The lineup for EDC Orlando is already up, so check it out to decide if you want to attend. You have plenty of time to get your tickets and plan your trip to enjoy this one-of-a-kind rave.
How Much Do Tickets Cost for EDC Las Vegas?
EDC Las Vegas 2024 tickets ranged between $39 to $799 for the VIP ones. Of course, you also have to take into account what you'll spend on your hotel or resort. Fortunately, hotels and resorts around the event tend to offer exclusive EDC deals. Plus, you can consider areas like downtown Las Vegas, where rates are more affordable and it's not too far from the festival.
EDC Las Vegas
If you plan on attending EDC next year, the best piece of advice we can give you is to create a schedule. The lineup is always published ahead of time, so check it out and prioritize the artists you want to see. This way, you can balance your time between enjoying the shows and everything else EDC has to offer, such as the carnival rides. Needless to say, you'll need a comfortable yet fun rave outfit. Browse the Rave Bonfire store to find exactly what you need!

EDC Las Vegas 2024

EDC Las Vegas 2024 promises to be an electrifying extravaganza that electronic dance music enthusiasts won't want to miss. Scheduled to take place from May 17 to May 19 at the iconic Las Vegas Motor Speedway, this edition of EDC is poised to deliver a sensory overload of epic proportions. With a diverse lineup featuring some of the biggest names in the EDM world, attendees can expect heart-pounding beats, mesmerizing visuals, and a vibrant carnival atmosphere. From jaw-dropping light shows to adrenaline-pumping rides and awe-inspiring art installations, EDC 2024 is set to once again redefine the festival experience. While ticket prices vary, the memories and music you'll take away from this three-day extravaganza are sure to be priceless. So, mark your calendars, plan your outfits, and get ready to dance the night away under the electric sky at EDC Las Vegas 2024!